ABOUT US
About Eepybird
Stephen Voltz and Fritz Grobe are cofounders of EepyBird Studios, the company behind the Coke and Mentos phenomenon and other viral campaigns that have been seen over 150 million times.
Viral video specialists since 2006, their videos for brands like OfficeMax, Coca-Cola, McDonald's, Blue Man Group, and ABC Family have received two Emmy nominations, won four Webby Awards, and they were voted "Online Game Changers of the Decade" at GoViral.com.
Michael Donnelly, the director of interactive marketing for Coca-Cola, said EepyBird's second campaign had, in his words, "the impact of a SuperBowl ad."
[Learn more about STEPHEN & FRITZ.]
[Learn more about our SPEAKING & CORPORATE EVENTS.]
[Learn more about our WORK WITH BRANDS.]
[Learn more about our METHOD.]
[Watch more of our VIDEOS at EepyBird.com]
About Stephen and Fritz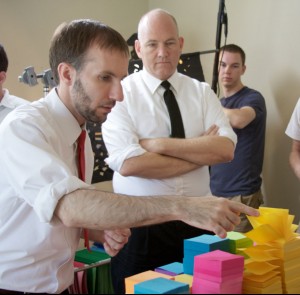 Stephen and Fritz have appeared on The Late Show with David Letterman, Ellen, The Today Show, Mythbusters, and more. They have performed in Las Vegas, New York, Paris, London, and Istanbul, as well as setting world records in the U.S., Holland, Belgium, Germany, and the Philippines.
They've also made special appearances in videos by Barenaked Ladies and Weezer (the Grammy-winning "Pork and Beans").
Stephen and Fritz have spoken at events across the United States, including at the Online Media, Marketing, and Advertising Conference in New York, Columbia University Business School, the Art Center Design Conference in Pasadena, IDEO in Palo Alto, and the Producers Guild of America in New York, as well as at events for digital filmmakers, business owners, and independent artists.
They come by their rigorously analytic approach to Internet video honestly. Stephen has a law degree from NYU and practiced as a trial lawyer in Boston for twenty years. Fritz studied mathematics at Yale University until he dropped out of school to become an award-winning circus performer.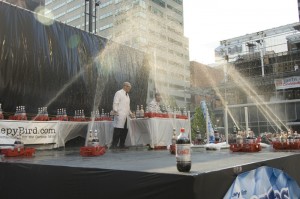 [Learn more about Stephen.]    [Learn more about Fritz.]
The New York Times called Stephen and Fritz, "Hilarious!" Rolling Stone called them, "Wizards!" And Matthew Langie of WebTrends said, "EepyBird's presentation helped make our event in Las Vegas unforgettable!"
[Learn more about our speaking and corporate events.]
About Stephen Voltz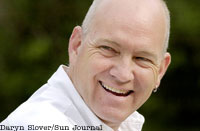 Stephen Voltz spent 20 years as a trial lawyer in federal and state courts, winning leading cases in Massachusetts involving discrimination, fraud, and racketeering. But before he grew up to be a responsible adult, he was inspired to be a performer by the vibrant street-performing scene in San Francisco. He went on to study at Celebration Barn Theater in South Paris, Maine, and have a one-man show at the San Francisco Fringe Festival. Co-founder of EepyBird, he splits his time between Gloucester, Massachusetts, and Buckfield, Maine.
About Fritz Grobe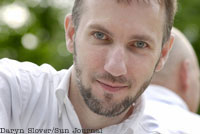 Fritz Grobe left his studies of mathematics at Yale University to become a professional juggler. He went on to win 5 gold medals at the International Jugglers Championships and hold a world record for juggling way too many objects. He was a lead actor and featured solo clown in the original cast of Birdhouse Factory, a touring Cirque du Soleil spinoff. Co-founder of EepyBird, he lives in the small town of Buckfield, Maine.